The Einzig Team
Selling Your home Fast and For Top Dollar
Complementary Staging Service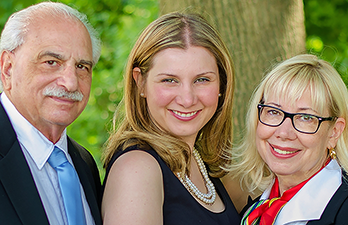 The Einzig Team- Three Market Savvy Real Estate Agents with Realty Connect USA of New York, who combine innovative selling techniques and Staging talents to create an atmosphere that enables sellers to sell their home fast and for top dollar. Once a house is posted for sale on "MLS" it becomes a commodity for sale. For a product to sell it must be packaged enticingly. The "packaging" is where "The Einzig Team" sets their clients homes apart from the competition. Their staging creates emotional connection points throughout the house, so buyers feel at home. Home owners selling their house want to hear the buyer say, "This is the one, this is our home". "The Einzig Team" brings sellers and buyers together by transforming a house from SELL to SOLD.
1. First Impressions –"The Einzig Team" will take a "buyer's walk" through the seller's house and take notes of their first impressions. What highlights of the house can be utilized as "emotional connection points" to a buyer? After our first impression is formed, the Einzig Team creates an action plan to promote the unique features and eliminate any distractions keeping buyers from achieving the wow factor. In the event any room requires special attention, as an investment in our clients to ensure selling their houses fast and for top dollar, the Einzig Team Stages homes with designer collection inventory, containing furniture, window treatments, decorative accents and accessories.
2. Eliminating Clutter –"The Einzig Team" will suggest packing possessions away in order to create a more open and spacious feel.
3. Emphasizing the Positives and Downplaying the Negatives – Finding the natural focal points, "The Einzig Team" will emphasize what we love about the room and downplay the negatives.
4. Lighten up – Focusing on lighting and color, "The Einzig Team" will make each room into a bright, warm, space that buyers respond to.
5. Home Buyers Appeal – In order for a buyer to feel at home, buyers need not be reminded that this is someone else's home. Sellers need to "de-personalize" the space while retaining its warmth and charm.
6. Odors/Cleaning/Repairs – The "dirty work" is sometimes overlooked because home owners may have lived in this space for so long. Home owners should get rid of the buyers' mental "repair list" by doing it ourselves.
7. Staging – "The Einzig Team" will work with home owners on how to sell your home fast and for top dollar, by updating the style of your house so buyers feel they are getting the latest and greatest. As a service to our customers, in the event your home requires accent furniture, decorative accessories, window treatments, we will place these items in your home from our designer collection inventory at No Charge to you.
8. Emotional Connection Point – We want to create the "WOW" factor. This is a huge focus for our strategy. We build these connection points, so buyer's subconsciously desire your house.
9. Buying a home? We look forward to helping home buyers select the home of your dreams by taking time to listen to your needs and desires.
10. Selling a home? Our real estate expertise and many effective marketing programs will give you the exposure and marketing edge you need to sell your home fast for top dollar.
11. Returning Client? We appreciate the opportunity to continue to serve you and hope our buyers and sellers take advantage of the valuable resources we provide. Come back to visit often!
12. Market Report We consider this community an excellent place to reside and would love to share with you our enthusiasm for the many neighborhoods that encompass it. We pride myself on providing unparalleled service and look forward to developing a long-term relationship with you. Please feel free to contact us if you would like to discuss how we can best assist you with your real estate needs.
The Einzig team of RealtyConnect USA now offers our Exclusive Concierge Services
marketing program to sell your house fast and for top dollar in the shortest time period.
FOR A LIMITED TIME ONLY The Services of the Einzig Team
Lee Einzig
The Einzig Team
RealtyConnect USA
ww.EinzigTeam.com
Einzigteam@gmail.com
516-761-0438
Equal Housing Opportunity. All material presented herein is intended for information purposes only. While this information is believed to be correct, it is presented subject to errors, omissions, changes or withdrawal without notice. We are pledged to the letter and spirit of U.S. policy for the achievement of equal housing opportunity throughout the nation. We encourage and support an affirmative advertising and marketing program in which there are no barriers to obtaining housing because of race, color, religion, sex, handicap, familial status or national origin.